Join the WordPress community, ask your questions, and connect with the experts!
Join our WordPress forum today and get the help you need to make your site even better!
If you're still dealing with the hassle of paper bills and paying with checks, you're not embracing the ease of digital payments. By switching to e-invoice or e-billing, you will get paid faster and in a more secure way.
This payment option is excellent because it allows bills to be delivered and paid online. So not only are you cutting costs, but you are also improving overall efficiency. If this sounds like something your business could benefit from, that's because it is and you're about to find out why. In this article, you'll learn more about electronic invoices and why they may be a perfect fit for any business that has recurring invoices.
Meaning of electronic billing
E-Billing is an electronic invoicing process through which invoices are sent and payment is received online. The electronic invoice is generated by the company's accounting software and sent to the customer via email or web portal.
An electronic invoice is a digital version of a paper invoice. Electronic invoices contain information about due dates and payment terms. The entire electronic billing system connects the payment gateway to simplify the payment process.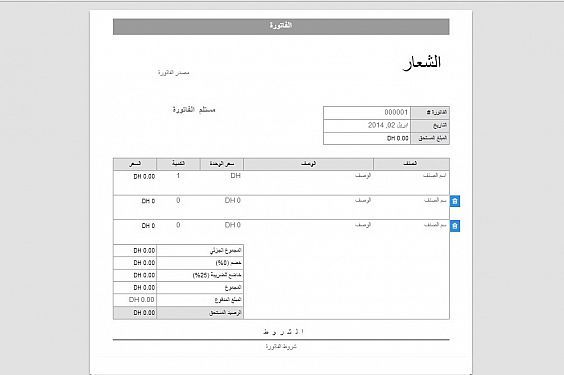 Companies issue electronic invoices for their accounting and tax operations, etc., for example, when making a transfer through the Strip platform or PayPal Then you will get an electronic invoice for the transaction and all the basic information.
Uses and benefits of electronic billing
Electronic billing systems offer a plethora of benefits to any business that takes advantage of them. Here are some of the notable benefits that you can get from using the electronic billing system:
it's cheaper – Filling in paper invoices and manually entering data into a computer system is resource and labor intensive. With an electronic billing system, you can get rid of all that and simplify billing instead.
A friend of the environment – As you may have already realized by now, the electronic billing system greatly eliminates the need for paper in businesses. This is why it is an environmentally friendly choice.
Faster payment and collection Electronic billing options make sure that you don't have to wait for payments to go through the mail. It can reach customers' inboxes within minutes, which means you can expect faster checkouts with fewer chances of delays.
Better customer experience Your customers will appreciate the convenience of paying from the comfort of their own home. Not only will it ensure faster payments, but it will also improve the overall customer experience.
global service area With electronic billing, you can now meet the needs of the global market. The Internet will open up the whole world for your business. As long as your customers have an internet connection, you can sell to them, and they can transfer their payments to you in no time.
Reduce chances of making mistakes When you have a solid payment system, the margin for error will be greatly reduced. An efficient system handles the bulk of the process Accounting And transactions will reduce the chances of human errors. In addition, it will make your work more efficient.
Personal customer data – When you combine your CRM with electronic billing systems or other business dashboards that track and record customer lifetime value and purchasing preferences, your business will start to benefit from a tactic Marketing The extremely strong known as hash.
Disadvantages of electronic billing
Some of the disadvantages of using electronic billing systems are as follows:
Safety: In electronic billing, there is a risk of someone else accessing your customer information or payment details if they are not stored on a secure network. Data security is a major concern while using electronic billing systems.
Offline clients: Some clients cannot access emails. Also, there may be customers who may want to receive paper invoices. Hence, reaching out to these customers will be difficult in such cases.
Spam: Sometimes, your emails are flagged as spam by email service providers. In such cases, it becomes difficult to reach out to your customers and address them to change your spam filters to allow access to your invoices.
Cost increase: If you use a third-party service provider to send electronic bills, you may incur an additional cost that may add up quickly.
What is the electronic billing system?
Electronic billing systems are a computer system that assists in creating and delivering invoices, as well as accepting customer payments. The e-billing process typically follows this path.
The billing data of the customer is added to the billing system.
The customer invoice is generated by the invoicing system.
Invoices are collected and delivered to customers online.
Customers received a new invoice via email.
There are two main categories of electronic billing systems:
direct billing systems and
Collection systems integrated with banks.
Going back to the previous example, subscription-based companies allow customers to log into a utility website to view and pay bills. This method is an example of direct electronic billing for invoices.
Some bills are integrated into the bank bill payment system. In this case, users can log in to the bank's website and pay bills for multiple bills via the same interface. This method is an example of bank aggregation systems. Direct billing and pool banking are the two popular formats for electronic billing.
Tips for choosing electronic billing software
There are a variety of electronic billing software available in the market. Here are some tips on choosing the right e-billing software:
Understand your needs: The first thing you need to do is understand your requirements for the program. Do you want it to be integrated with other software in the organization, or do you just want it to create and track invoices? Depending on your needs, you can choose a suitable option.
Industry software: There are different needs for different industries. Depending on your industry specific needs, you can choose the preferred option.
integration: Your company may use multiple systems for different functions such as: HR AndAccounting Payroll, billing, etc. Choose a billing software that can easily communicate with other software in the organization for a seamless flow of data.
How do B2B companies use electronic invoices?
While many companies use electronic invoicing for customer payments, it can also be used effectively for business-to-business transactions. In fact, if a business has recurring invoices and payments, say on a monthly or quarterly basis, an electronic invoicing system can make it easier to handle invoices and payments automatically. In this way, businesses can further simplify the process.
What is electronic invoice and how does it work?
An e-invoice is a feature that allows you to receive and pay electronic copies of paper invoices directly from your online e-billing system account.
What are the types of electronic billing systems?
Currently, there are four types of electronic billing systems that you should know about:
1.Direct with the business platform:
This type of electronic billing system is the most common form where a business has its own system and sends it to the customer for payment. Like Paypal and Alibaba.
2.Aggregator or credit card dashboard:
This type of electronic billing system is used when a customer pays the company personally using a card. However, they will then settle this balance later online via the control panel.
3.Self billing:
This type of electronic billing system is used when a company offers an option to pay directly either through charity or for a business agreement where the customer proactively specifies the amount to be paid.
4.Online E-Receipt Confirmation, Cash Payment:
Finally, this type of electronic billing system is when business partners with banks or other online portal providers give a receipt or electronic reservation number to the customer. They will then have a specific window to go to the bank they signed up with, look up the reference number, and pay the bank with cash. The bank will then hand over the cash to the original partner.
What are the benefits of the electronic billing system?
Electronic billing is the process by which a business bills its customers. It also automates payment collection, invoice tracking, sending recurring invoices, etc. It is used to get payments quickly and securely. It creates a win-win situation for both business and customers by offering faster, more convenient and secure payment methods.
Here are some of the benefits of using electronic billing software:
Improved accuracy and efficiency: There is a direct connection between the electronic billing system andaccounting software , which leads to fewer errors. Also, creating an electronic invoice takes less time than a paper one. This leads to improved efficiency.
Automation feature: Nowadays, companies are trying to automate repetitive manual processes to improve efficiency. Electronic billing is a great opportunity to automate the billing process.
Better customer experience: E-invoices can be created more professionally with seamless access and payment processing. This results in an improved customer experience.
Better scalability: Electronic billing system provides easy scalability compared to paper billing. In the case of an increase in the volume of bills, electronic billing can be easily increased, while paper bills require more investment in printing, administration and delivery.
Energy efficient: Electronic invoices are energy efficient compared to paper invoices, which require more energy and resources for production and delivery.
Lower overhead costs: By switching to electronic billing, one can save on printing, delivery and postage costs. This leads to lower overhead costs.


Link copied