TikTok rolls out its TikTok Shop in the United States
More and more TikTok users are using the social network to find new products and plan future purchases. Hashtags like #TikTokMadeMeBuyIt (TikTok made me buy it) are increasingly popular on the app. So it was only a matter of time before TikTok allowed its users to sell products directly from the app. It is now a done deal, in the United States only for the moment, with the arrival of TikTok Shop.
The social network now gives brands and creators the opportunity to integrate their products and catalog into the platform, while allowing the addition of purchasing links directly in videos and lives, similar to what is offered by Instagram Shopping. All future sellers will have tools implemented in the application to highlight their commercial content.
TikTok Shop allows brands and creators to connect with highly engaged customers based on their interests, and it combines the power of community, creativity and commerce to deliver a seamless shopping experience, reads -we in the blog post announcement.
What possibilities does TikTok Shop offer?
Tested since November with hand-picked American users, TikTok Shop offers new possibilities for all those who would like to sell products from the application, or buy them:
Video and live shopping: tag products directly in the videos and lives that will appear in the feed For you.
Products catalogue : browse products, reviews and buy directly from the profile of a brand or user, who will have the possibility of setting up personalized collections.
Shop tab: a new space dedicated to shopping is created, where the products are displayed and where users can carry out their searches, order, consult recommendations, etc.
Affiliate program: Sellers and creators can opt for affiliate programs, allowing the former to promote their products through the latter who will receive a commission.
Logistics solution: this system is set up to allow merchants to have their products stored and shipped by TikTok.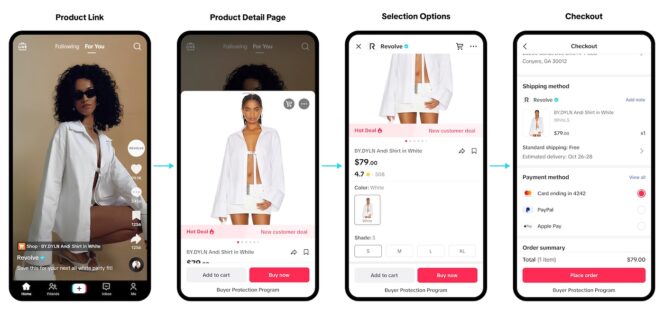 Many possible integrations with e-commerce solutions
Beyond these new application-specific features, TikTok is also implementing its TikTok Shop App & Service Store. This platform includes all the services, e-commerce or support, that merchants can connect with TikTok Shop. These include:
E-commerce platforms: merchants will be able to connect TikTok to their e-commerce platforms, such as Shopify, WooCommerceSalesforce Commerce Cloud, BigCommerce, Magento…
Multichannel partners: TikTok partners with several platforms for omnichannel business management, like Channel AdvisorFeedonomics, Pipe17, SellerCloud, GoDataFeed and many others.
Other connected services: TikTok Shop can be connected to customer services such as Zendesk, Gorgias or 1440; to print-on-demand services like Printful, Printify or NovaTomato; to Yotpo for reviews; to WeeBee, Flowspace and Easyship for shipping.
If ByteDance, the parent company of TikTok, has not given any information on the deployment of such a program outside the United States, it is entirely plausible to see the TikTok Shop land in France in the coming months. At the moment, the social network announces that 200,000 sellers are registered in the program and that more than 100,000 have already subscribed to the affiliate program with a brand. Users and brands located in the United States and interested in becoming sellers on TikTok must pre-register through the Shop Seller Center.