Without an idea, there is no chance of starting your own online business. With a large number of Entrepreneurs There, this first step is one of the most difficult, as you may find yourself surfing all over the web pouring out your creative ideas. We've compiled a list of the 20 most important online businesses you can start tomorrow.
Significant preparation and research is obviously required, but hopefully this list will help you get started.
1. Sell your design
If you are good at designing and creating unique images, you can simply start selling your own designs.
There are many websites that offer the opportunity to sell your design in the form of T-shirts, bags, mugs, etc. or even as a digital design. The only thing to watch is to keep your creations printable. Once your ideas start selling, you will receive a commission for each lot sold. You don't have to worry about shipping or actually printing the design, the only thing you will be required to do is upload your photos.
Registration is free, and there are usually no fees, however, before you start, you should start thinking about your own brand. It always proves to be a great decision to come up with a catchy name at least as people can follow your store and they will keep an eye on your business.
By creating your own brand and selling creative images, you can get a better reputation, which will lead to better sales.
Here is a list of the 21 best places to sell your design work online:
2. Start the freelance
There are many career platforms on the internet that give you the opportunity to start your freelance career. These sites enable companies to get the additional assistance required for the success of their project, while enabling freelancers to build their reputation and apply to different types of projects. From graphic design, translation, and programming to data entry tasks, you will find many projects to join. Build your perfect profile and start bidding to run your business.
For more information about the Freelancer, see the following articles:
3. Building websites
The idea is to create and sell Blogger or WordPress blogs.
If you are into coding, offering a website building service can give you some major boost in the world of web designs. Set up your own site and describe your services. Start advertising your service on social media and launch a marketing campaign. Pay attention to the latest trends and keep up with them to attract as many customers as possible. Since the world of web design is constantly changing, there will be a need to constantly learn things. You can get an idea about the latest design trends with a simple google search.
fried you can Create a Blogger blog or WordPress blog And sell it to the owners of companies or individuals who want to profit from blogging, for example.
Or you can even design websites for transportation and tourism companies …
4. Create WordPress themes and plugins
Another option if you have a knack for web design is to create and sell your own WordPress themes. Since many people are looking for easy and simple solutions to establish their online presence, WordPress themes are very popular. You can sell your own designs to many websites and profit from your hard work.
Among the most important of these sites is the site themeforest .
5. Work online as a blogger
Although nowadays it seems impossible to make profits from blogging, many people have been able to do it, and blogging is one of the most important areas of work on the Internet because it creates a lot of opportunities for the owner of the blog and for those who may hire them with him.
If you are passionate about writing and have the right amount of drive, you can give blogging a chance.
Creating your own blog does not require a lot of technical skills, however, getting high traffic is a different challenge. Choosing a topic is always difficult.
If you are an expert in something, you may want to choose to share your own thoughts, which can help other professionals. Whatever your topic, you'll need to invest the time to build a solid audience.
This will enable you to promote other brands, build new business relationships and ultimately make a profit. Blogging is somewhat competitive, but if you are good with words, you can make a profit.
6. Work online as an affiliate marketer
Affiliate marketing A very huge industry.
If you want to make a few bucks online and want to do so without developing any product yourself, affiliate marketing online might be your best option.
Amazon, Ebay, and most of the big companies offer an affiliate program, where the only thing you need to do is drive traffic to their sites and get people to buy their products.
After every sale, you can earn a hefty commission, with the highest commission category being around 8.5%. You will also earn money after the users who sign up via your referral. You can either create a new site for a specific product type or add referral links to your existing blog or website.
To find out more visit our guide on Affiliate marketingIn it, you will also learn about the best and most popular commission marketing programs and networks, such as Clickbank and others.
7. Start an e-commerce business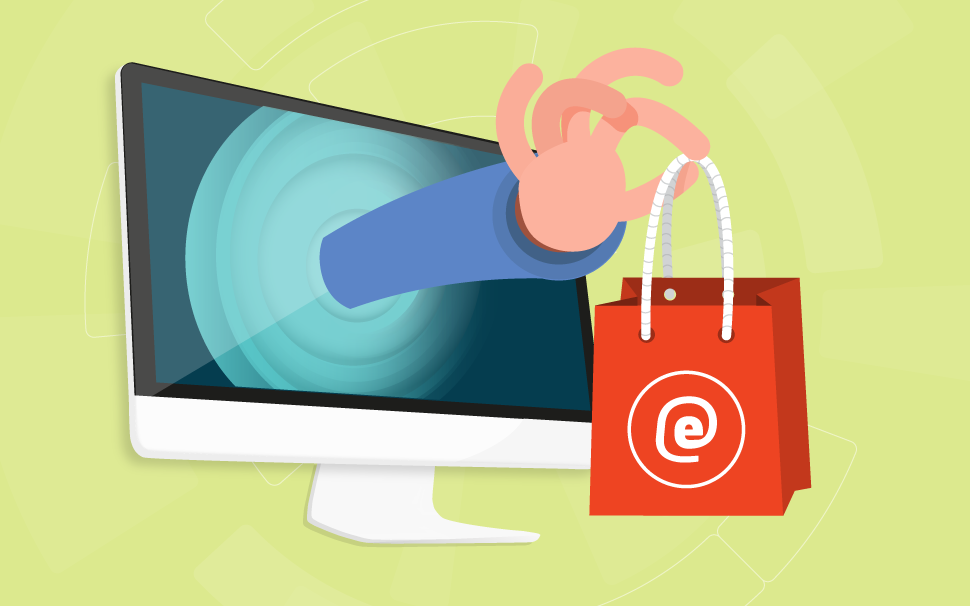 Besides selling through third-party stores like Creative Market, Shopify, Woo-commerce makes it easy to create your own online store in a second.
We're using Woo-commerce here, and we love it. So, if you have a product in mind (or in the future), you can easily start selling online. While there are also several ways, such as dropshipping Which can save you from a headache when it comes to storing or delivering products.
To learn more and more about e-commerce, you can read the following:
8. Self-employment as an expert in social media
With the increasing popularity of social media, large companies need professionals who can manage multiple social media accounts simultaneously. Research social media expert/consultant opportunities and be ready to implement, or in some cases, create marketing plan via company social media. If you have professional experience and know how to convert social media connections into leads, this is your best option.
See also: Social media marketing
9. Sell your website space
If you already have your own blog or site, you can work with advertisers and sell part of your page. This way, you can earn money every time the ad on your site is clicked.
model dependent cost per click (CPC) on the size of your website traffic andCTR (CTR). You can increase your earnings by using SEO tools, Media.net, and Google AdSense. There are many other tools that can help you increase your advertising potential and make a big profit.
See also: How to earn from Adsense
Also remember that you can publish sponsored articles, andGuest Post .
10. Work online as a freelance writer
Writing, editing, and proofreading are two of the biggest areas of online work right now.
If you want to just focus on writing without worrying about the various marketing aspects that come with an online business, you can do that as well. Either by writing for other websites or blogs, you can get paid per article.
E-books are also popular, and also subjects that require special knowledge (marketing, law, pharmacy, etc.) will get you higher paying projects. You can also become a professional writer, content writer or editor.
Freelance writing is growing in popularity, so if you have a knack for writing, you should consider this new career path.
See also: How to write an SEO friendly article
11. Internet marketing
Internet marketing is a booming field of online business nowadays.
Do you have experience in Search Engine Optimization? do you know what it is Search Engine Marketing (SEM).?
If so, you might have a job in the realm Internet Marketing. Once the site is optimized for SEO and filled with valuable content, it is time for SEM (Search Engine Marketing).
If you have professional experience and knowledge about promoting technologies over the web, chances are high that you can run an online business. Since these tasks are usually outsourced by companies, there is a large pool of potential clients out there. Also, a great chance to get huge profit!
If you are interested in internet marketing visit our section E-Marketing on persistent.
12. Share your knowledge and sell online courses
Online courses and webinars have brought online education to a new level.
If you are an expert in a subject, you can share your knowledge online and make extra income in your spare time. There are many platforms on the internet which offer courses on various topics and also enable professionals to enroll as tutors online.
Set aside a few hours a week to share your ideas and you could easily end up with a passion and a new source of income. You can use Teachable to host your online courses because it's one of the most intuitive and attractive platforms we've seen – they even offer free live training on how to get started. You can download the courses you have created at Udemy or Coursera Or even create your own website to present and sell your courses.
13. Selling high quality photos
This field of work on the Internet is very well known, but it still has room for more creativity, especially in Arab countries.
The era of traditional images is slowly coming to an end, as web designs aim to highlight unique and high-quality images. If you are an avid photographer, you have many options for selling your photos online.
Adobe Stock.
Shutterstock.
Alamy.
Etsy. …
photomoto.
Crestock.
500px
14. Become a virtual assistant
Since all businesses need a helping hand to run their daily administrative tasks, there is a great opportunity to get a full-time virtual assistant job.
This type of home business will give you flexibility, while you certainly won't get bored, as virtual assistants have to handle several types of tasks. If you have a phone, internet connection, a skype account and some office experience you might as well get started right away.
15. Create video content
Since the popularity of video content is on the rise, especially when it comes to internet marketing, if you have experience creating video content, you can definitely run the business. Present video packages to potential clients, find online projects to take part in and most importantly have a compelling portfolio.
Video content can make you a lot of money, but only if you have the requisite technical skills and marketing knowledge.
16. Create a podcast or YouTube channel
are you an artist? Well, it might be time for you to hit the virtual stage and show people what you've got. With podcasts and YouTube channels becoming increasingly popular, you now have the chance to build a huge audience and share your thoughts.
Whether you plan to comment on daily political happenings, or you want to make gameplay videos, you can do so with just a few clicks. There are millionaires who got rich thanks to the online community, so don't be afraid to get out there and let other people enjoy your talent!
See also:
You can do it like me and many freelancers
There are many areas of work on the Internet other than this, of course.
Although some of these online business careers may seem intimidating and complicated, with a little bit of self-education, assertive attitude, and motivation, anyone can make a career change if they focus on it. Some resources for getting started and finding your dream job online are Freelance, FlexJobs, LinkedIn, and Upwork.
Of all the basic skills needed for a successful online business, navigating and understanding the Internet comfortably are the two that must be mastered.
If you have the ability to create a website, develop and manage content, and understand SEO and analytics, the opportunities are endless for you to find your dream business career that can be done from anywhere.
And in the end, remember that you will not reap anything if you do not strive and continue to strive, continuity and continuous work is the key.


The link has been copied