When we talk about methods and methods of monetizing blogs, Adsense is discussed as one of the preferred methods because it provides us with income that can become permanent, and it is currently one of the most profitable ad networks. Dealing with this situation and how to overcome it.
These days, Google AdSense looks aggressively at the quality of the pages on which ads are displayed, and they take it very seriously.
The email that no blogger or webmaster wants to receive from Google Adsense It is a message containing the following line: Displaying adsense ads for your site has been disabled ." A few days ago, I joined the club of unfortunate recipients of this email. Here is the email I received from the entire AdSense team:
Welcome,
During a recent review of your account, we found that you are currently
Display Google ads in a manner incompatible with our software
AndTerms and conditions of use .
---
for example : /……/http://motaber.com
Please note that the URL This is an example, and the same violations may exist on other pages of this site or other sites in your network.
Type of violations detected:
Copyrighted Materials: As stated in the policies of our program, Adsense, publishers are not allowed to place an AdSense ad on sites that display copyrighted material. This includes hosting copyrighted files on your site, as well as providing links to or driving traffic to sites that contain copyrighted material. More information about this can be found in details about this policy Help Center our own.
Action we took: We have disabled ad serving to your site.
Account status: active
Your AdSense account remains active. However, please note that our team reserves the right to disable your account at any time. As such, we encourage you to familiarize yourself with our program policies and to improve your site accordingly.
Error code: ID#XXXXXXXXX
A problem with disabling Adsense for my account and how I fixed it:
I've written in the past about how Avoid violating Adsense policies, and I have taken care to avoid any such violations myself. However, although I am aware of the fact that the AdSense team does not allow us to host copyrighted content, I did not realize that if we are linking to sites that are illegally sharing copyrighted material, it is a policy violation. there Detailed cases Check it out on this topic which is worth reading.
In short, if your blog contains external links that link to pages or websites that distribute copyrighted content, your account may be in adsense in danger. However, I must say that this is definitely a gray area, as many popular free file hosting sites such as RapidShare and many others including torrent sites may fall into the same category.
Let's say your AdSense ad service has been disabled for a specific site, but your account is still active. Here are the steps you can take to restart your adsense bid on that particular site:
Delete all posts that violate Adsense policies
Disable Adsense in all sections of the site shown in the message you received (this may not be considered the best option)
Change the domain, remove the content and reapply for AdSense ("last resort" option, recommended at least)
Once you've made all these changes, log into your AdSense account and head to the Policy Violations page. Depending on your violation, you will see your site listed in one of the violation tabs.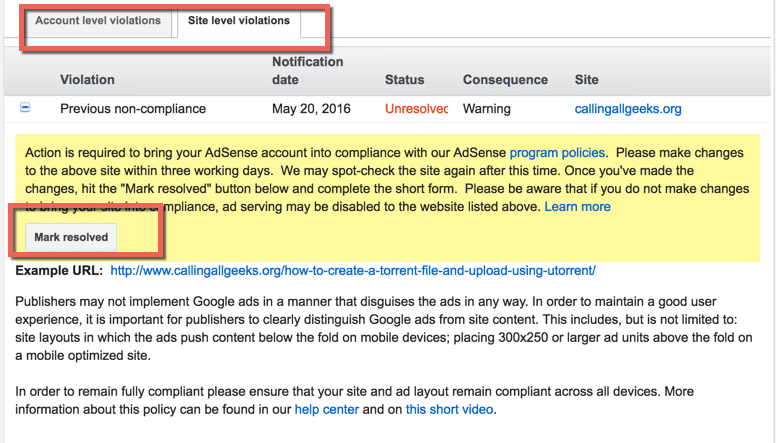 Click on the button shown in the image (mark as resolved).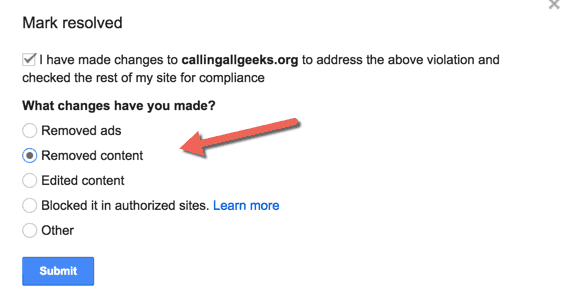 After that, choose one of the clear options that represent the solution that you have done, for example, for me, you have limited all articles and links that end you or link to sites that violate Google policies, then press "to be sure.
In my case, I removed this content upon receiving the email noting a violation. I was linking to some free movie watching site, and apparently this was a policy violation, I thought I'd corrected it. However, seven days after I took this action, I received another email.
I was obviously very surprised to receive this email, and I immediately contacted the Adsense team and asked them to look into the issue directly, since I removed content that violated their policies.
Steps to reset your AdSense account as it was in the beginning:
If you find yourself in this situation, this is it The page you need to visit and check in their content closely. . Whenever you contact the Adsense team, make sure that you are logged into the same Gmail account that your AdSense account is enabled with.
For reference, here is the email I sent to the AdSense team at the time:
to the adsense team,
I have been an AdSense publisher for the past 3 years and it has been one of the main monetization methods for my blog network. I made sure to follow all the quality guidelines and best practices mentioned in AdSense. Two weeks ago, I received an email saying that some of my content violated our policies and terms of use, and promptly removed the content. A week later I got another email saying that AdSense ads have been disabled for this specific site.
I think this is wrong, since I made all the necessary changes as requested. I'd like a second review of my issue, ID=#####, and I'm willing to work closely with you to make any changes necessary to deliver more value. We look forward to your reply.
With Regards,
Along with all the necessary details like Publisher ID, Version ID, andURL to the affected site. Within three days I received this email from the AdSense team:
Thank you for making the required changes to your site in order to comply with our policies. After an extensive review of one-of-our-sites.com, we have now re-enabled ad serving on this site. Because ad serving on your site is temporarily disabled, many have noticed a delay of up to 48 hours or more before ads start appearing on your site again. We appreciate your patience and cooperation.
So, if you face any such issues with AdSense blocking a particular site from your sites, then you know the steps you need to take to rectify the problem, and how to re-enable AdSense.
I suggest you take care to maintain the quality of your blog, don't copy and paste it, and don't place ads on domains that have auto-curated content. In fact, if you've been using any other method to automate your site, it's time to rethink your strategy, because the AdSense team is getting stricter about their policies.
Have you encountered any of these issues lately? Has your account been restored now? What corrective actions did you take and what channels did you use to contact the AdSense team?
If you found the information in this article helpful, please share it with your friends.
Join the ArabWordpress community, ask your questions, and connect with experts!
Join the ArabWordpress community today and get the help you need to make your site even better!


The link has been copied