Making money with affiliate marketing
There are a lot of companies and platforms that provide affiliate marketing for their products and services, and profit from the affiliate by getting a special referral link and using it to bring in real visits and conversions.
It can be difficult for new bloggers to make good profits through affiliate marketing, and this is due to the difficulty of finding good marketing programs and platforms.

The affiliate marketing industry is too big to imagine, marketers in the US alone generated more than $5 billion in revenue last year.
More than 15% of digital marketing revenue comes from affiliate marketing programs and this percentage is growing rapidly with the good results achieved by companies.

However, if you are a blogger, then affiliate marketing is the best option to monetize your blog.
Many bloggers like Shoutmeloud and Bloggers passion make more than 70% of their revenue from affiliate marketing.
In this article, we will learn about:
The best affiliate programs and platforms at the moment that marketers and bloggers can use to make money.
Best affiliate networks
Bluehost Hosting
Bluehost platform is a web hosting company, in fact more than 2 million websites use Bluehost to host their websites, and it is one of the most trusted web hosting companies in the world.
And in order for the company to actually increase its sales, it launched a few years ago the affiliate marketing program that provides marketers to join it and get a special referral link, bring customers and get a commission.
The platform awards $65 per registration generated from your referral link, and it paid out over $5 million to affiliate marketers last year.
marketing automation for agencies
email marketing automation software
2. GetResponse
GetResponse is an email marketing service, they have an impressive affiliate program where they pay 33% commotion.
3. Grammarly
A tool that automatically detects grammatical, spelling and pronunciation errors in texts written in English.
It is the most popular tool among bloggers and content writers, and most of the foreign bloggers and content writers use this tool to write better content in terms of grammar and spelling.
This tool is available in both paid and free versions.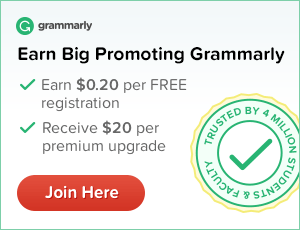 The free version of Grammarly is also a great tool, but the paid version also includes some features for writing great content.
The conversion rate of this tool is 20-30% which is really high compared to other affiliate programs, the best thing about this platform is that you will also get commission if someone signs up for the free plan as well.
You get $0.20 for each free subscription, plus $20 for each premium or paid subscription.
4. Siteground Hosting
Siteground is also a web hosting company.
There are 1.8 million domains hosted on this platform.
This company has grown exponentially in the past few years.
Not only does it provide good hosting for its clients, siteground also provides a large amount of commission to marketers, you can see the commission rates below in this image.
The nice thing is that they don't have a minimum payment. You can withdraw your payment at any time through PayPal.
5. Hostgator Hosting
Hostgator is a well-known hosting company, there are more than 2 million customers of this company around the world, and they provide hosting space at cheap rates.

The commission program for this company provides a high commission rate for marketers, you can see in the following picture Hostgator the most prominent commissions offered by the marketing program from this company:
You can see in the account on the picture, if only 21 people sign up from your link, you will receive $2,625 in commission, that's very good.

If you want to start your journey with affiliate marketing, then Hostgator Affiliate Program is the best option for you.
6. Elegant Themes platform
ElegantThemes is a popular site for WordPress themes, themes, plugins, and plugins. Many popular websites use the elegant look of their websites.

It contains 87 types of themes and 5 types of plugins, and more than 500,000 people use it to download themes and plugins for their websites.
Not only do they have great templates, they have the best affiliate marketing program in the industry, they offer 50% of the commission on every sale made by the marketer,
that means if anyone buys a $100 theme or plugin you will get a direct commission of $50 dollar.

Last year ElegantThemes paid out about $3 million to affiliate marketers, and there are currently 30,000 affiliate marketers working with this company.
7. DreamHost Hosting
Dreamhost is a web hosting company, more than 400,000 people use dreamhost and the company hosts 1.5 million websites, the company provides great support and hosting to its customers constantly.

It also offers a commission-marketing program that marketers can join and profit from, and it offers good and strong commissions.

The commission offered by Dreamhost to affiliate marketers is very good, which you can learn about in the following table:
But the payment system on their site is a bit slow, you can withdraw your winnings after 97 days via PayPal, so you have to wait more than 3 months to withdraw your payment.
8. Thrive Themes
TheriveTheme is a great site for WordPress themes, plugins, email list builder, and many more.
Its themes are very popular and used by many popular websites,
ThriveThemes started in 2013 and since then it has produced some of the best quality themes and page builders for WordPress.
They have 274 awesome landing page templates and over 70,000 people are using ThriveThemes to create their website.
ThriveThemes provides two types of profit through commission, one is commission on each sale and the other is recurring commission,
they offer 35% commission on each sale and 25% as recurring commission, you can withdraw your money anytime you want up to $20.

The company provides an educational guide for beginners about shopping
Promote and promote the tools and products of this company and profit from this business.
9. Amazon
Amazon is the largest global online store, providing affiliate marketers with marketing for its millions of products, offers, and services.

They have a variety of products to choose from, you can choose any product as per your niche and niche which will give you a high conversion rate,
below in the image you can see the commission rates of the products by their category.

They also have the best payment method in the affiliate marketing industry, you can withdraw your money anytime you want through PayPal or bank transfer.
10. Clickbank
It is basically a giant market for digital products and plays the role of a mediator between advertisers and publishers, and provides affiliate marketers with the ability to market those products in return for good commissions.
Commission rates on Clickbank vary from product to product., but usually you can get between $1 to $1000 for a single transfer, the highest commission rate on clickbank is 75%.
Also Read: