This September 18, Apple published iOS 17 for all the Compatible iPhones. But Apple Watch owners also have something to rejoice: Apple also rolled out watchOS 10, unveiling the most significant redesign since the launch of Apple Watches 8 years ago:
watchOS 10 is the most significant update since the creation of the Apple Watch. It gives a new look to almost every app, introduces new ways to navigate Apple Watch, and offers a new smart scrolling mode for widgets that display the information you need, when you need it. explains Apple.
We take stock of the 5 biggest new features!
watchOS 10: 5 new features to discover
1. Core apps are completely redesigned
First major new feature: the appearance and ergonomics of most of the applications on the Apple Watch have been improved: Weather, Maps, Messages, Phone, Stock Market, Activity… Now these applications fully occupy the screen, for better highlight key information, and display a more modern design.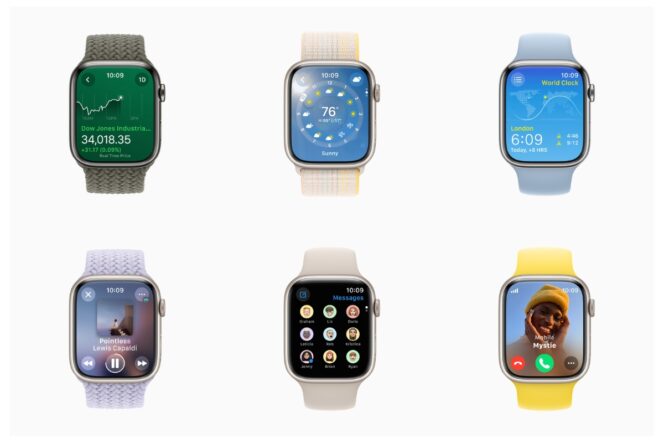 2. The use of the buttons is modified
Apple has modified the functionalities linked to the 2 buttons present on the Apple Watch:
Digital Crown: Now this button provides direct access to the application center. Double-tapping gives you access to recently used apps.
Side button: From now on, this button brings up the control center (until now accessible by scrolling upwards, on the locked screen).
A new way to interact with the Apple Watch, which saves time, but also allows you to have access to the control center at any time and from any application, which was not the case previously!
Note that the application center has also been modified: now, you benefit from a vertical grid, easier to order.
3. Intelligent scrolling: closer to your widgets
If you swipe up on the locked screen of your Apple Watch, a new interface appears: Smart Scrolling.
This new menu provides access, in one movement, to various useful widgets. You can configure this space as you wish, by adding (or removing) the widgets of your choice. You also have the option to pin the widgets you use most. If you have an activity in progress (a timer running for example), it appears at the top of the interface. Good to know: This menu is also accessible by rotating the Digital Crown, when your screen is locked.
Here is an overview of this new interface:
4. New dials
watchOS 10 is also an opportunity to offer Apple Watch owners new watch faces! Thus, 4 new styles of dials are appearing:
Solar analog: a clock that reflects the position of the sun in the sky,
Palette: This dial offers a very varied palette of colors, which evolve throughout the day,
Snoopy: The little character is installed in the dial of your Apple Watch, with different animations each time it is unlocked,
Nike Globe: This dial presents the time digitally, accompanied by the terrestrial globe in the background, which represents the passing seconds (the globe is completed as the seconds pass).
Please note: on the locked screen, it is no longer possible to scroll to the left or right to instantly change the dial, which helps prevent inadvertent changes!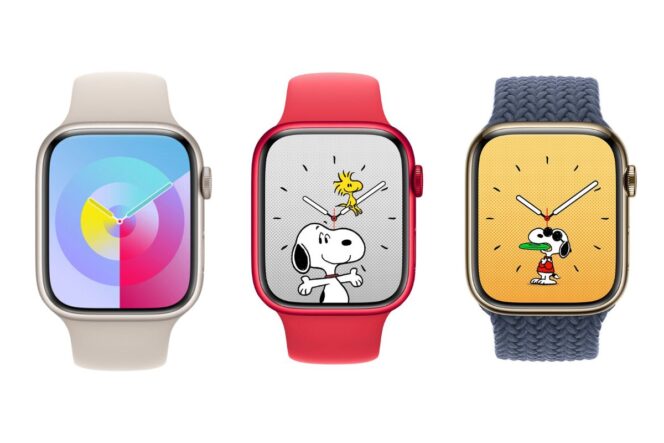 5. Your improved sports sessions
Since its launch, the Apple Watch has always been a faithful companion for athletes, particularly with the application Exercise which allows you to follow the different sessions carried out (running, swimming, hiking, cycling)… With watchOS 10, Apple goes further by offering new options for your activities, namely:
Bike: Now you can connect your watch to your Bluetooth accessories to capture the intensity, speed and cadence of your cycling session. In addition, if you start a cycling session in ExerciseIt will also appear on your iPhone, in full screen.
Hiking: keen on walking? The Compass application has been completely redesigned, and now offers the Altitude View: a 3D view which allows you to identify places already visited, and places where there is network reception. The app also sends you an alert when you cross a certain altitude threshold.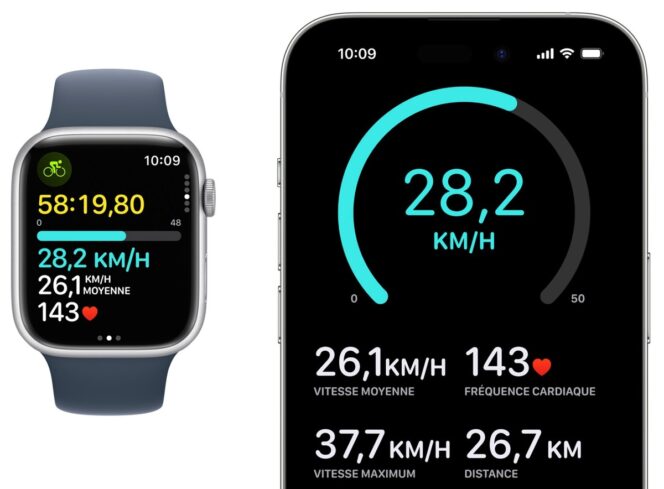 Apple Watch models compatible with watchOS 10
To benefit from the watchOS 10 update, you must have an iPhone XS (or later) running iOS 17. You must also have one of the following Apple Watch models:
Apple Watch Series 4
Apple Watch Series 5
Apple Watch SE
Apple Watch Series 6
Apple Watch Series 7
Apple Watch Series 8
Apple Watch Series 9
Apple Watch Ultra
Apple Watch Ultra 2
How to update your Apple Watch?
To download watchOS 10, there are two methods:
From iPhone: go to the app WatchThen General > Software update, and download watchOS 10.0.
From Apple Watch: meet in Settings > General > Software Updateand install watchOS 10.0.
Please note that your Apple Watch must be connected to Wi-Fi and have at least 50% battery to complete this update, which may take several minutes.